Requirements
A complementary solution for already used applications and systems, capable of delivering timely protection against advanced cyber threats.
Results
By implementing the FireEye solution, BCR obtained a superior speed of detection and a better reaction time in detecting and resolving security incidents that can be punctually identified, which offers the possibility to take measures at the workstation level.
Solution
FireEye Network Security (NX) security solution.
Quick detection and addression of cyber attacks that exploit "0 Day" security holes type and "advanced malware" threats that cannot be detected in a timely manner.
Uses conventional security tools based on signatures databases.
Overview of the situation
Banking and financial institutions around the world are currently facing a rapidly growing diversity and number of threats that present a higher degree of complexity.
Faced with this ongoing challenge, the organizations are obliged to constantly reassess the effectiveness of protective tools and methods they use, and to adopt security solutions able to detect and block new types of cyber threats in a timely manner.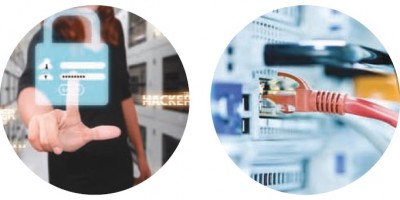 The solution and the implementation
partner
New cyber attacks types are mainly using Internet as a propagation environment and allow attackers to quickly detect and identify the protection systems of the targetorganizations, to compromise and take long-term control over key applications, for the purpose of data compromise and / or theft.
The main vectors of infection that may carry malicious programs (delivered as executable files, PDF documents, Java objects, archives, etc.) are: Web traffic, file sharing and  mail traffic. New generation of exponents are advanced malware threats and multi-vector attacks having precise target, which cannot be effectively detected and blocked by traditional security solutions using identification technologies based on signature lists.
The main benefit attested by BCR using FireEye Network Security solution, is that the bank is able to detect and block threats more quickly compared to using conventional solutions. It offers to BCR a superior detection speed and reaction time in resolving security incidents. In this implementation performed by BCR, the FireEye solution is exclusively designed to detect and stop Advanced Persistent Threats.
Another advantage of the FireEye Network Security solution is that the product is almost completely "plug-andplay". This meant for BCR reduced effort of eployment and integration, ease of setup and use, and eliminating the risk of traffic disruption, if there is a malfunction in equipment.
At the operational level, an important gain is that BCR is able to identify the threats in detail and therefore, has the opportunity to take measures at the workstation level, reducing the effort of detecting and solving the issues.
By intercepting the Web traffic of the users, the FireEye equipment runs different file types on the integrated virtual machines, and based on the recorded behaviors, it sets a level of risk for each file. The simulation of a workstation on a virtual machine is performed using a proprietary hypervisor. This is very important as most current malware codes are able to detect whether they are running in a virtual environment and based on this detection they can set an idle status to avoid being detected. On the other hand, the software component of the FireEye Network Security solution doesn't interact directly with the performed activities within the virtual machine. Practically, it works like an observer which launches alerts when it identifies a potential abnormal behavior that may represent a risk factor, and based on these alerts different decisions can be taken - investigating, blocking etc.
Client
Romanian Commercial Bank (BCR)
Romanian Commercial Bank (BCR), a member of Erste Group, is the most important financial group in Romania, providing universal banking operations (retail, corporate & investment banking, treasury and capital markets), and covering specialty companies working on the leasing market, private pensions and housing banks. 
BCR is Romania's No. 1 bank in terms of asset value (over €15 bn.), in terms of client base and in terms of savings and crediting. BCR is also Romania's most important financial brand, judging by the client trust rate and by the number of persons who consider that BCR is their main banking partner. BCR uses a network of 22 corporate business centers and 23 mobile offices dedicated to corporate clients, and 551 retails units located in most communities inhabited by at least 10,000 citizens to provide a full range of financial products and services. BCR is Romania's No. 1 bank running on the banking transactions market, since BCR customers have the largest ATM network at their disposal – over 2,100 ATMs and 13,500 POS terminals enabling customers to use their cards for shopping purposes, as well as the complete Internet banking, mobile banking, phone banking and e-commerce services.